Rally Cap (5-7)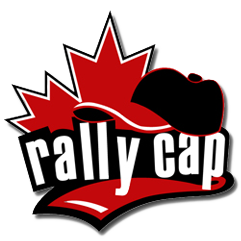 General Information

The Rally Cap Program is an initiative to enhance players and coaches first experience with the game. The program helps teach players the five FUNdamentals of baseball in a fun and safe environment. Players have the opportunity to perform different tasks in order to earn a colored Baseball Canada Rally Cap. Cap colors correspond with various levels of achievement. The program is designed for young baseball players born 2014 and 2015.
There will be no "Special Requests" granted for the Rally Cap program as players are placed on teams according to cap colour.
Registration for the 2021 season will open up in January 2021. Please watch our website and Facebook page for information on registration.

Ages: Birth year 2014 or 2015

Cost: $180.00
Days: Monday - Wednesdays
Times: 5:30pm - 6:30 or 6:30 to 7:30 (Tentatively)
Season Start: May 1 (Weather Permitting)
Season End: June 30 (weather permitting)

Equipment Required: Helmet, Baseball Glove, Shoes/Cleats,Protective Cup (Male and female), Optional: Bat

*** EXTREMELY IMPORTANT ***
**** Days and times are subject to change depending on registration numbers ****



Also watch our Facebook page Grande Prairie Minor Baseball for updates

Goals
Create a fun environment in which children and adults are actively engaged together in the game of baseball.
Develop fundamental motor skills, teach baseball skills, and basic rules to our players.
Experience success with an emphasis on good sportsmanship.
Promote increased self-esteem among Rally Cap children and adults.
Recruiting new coaches and volunteers.

Example Resources
Rally Cap Instructor Manual - White Cap
Rally Cap Report Card - Individual.
Rally Cap Practice Plan - White & Grey Caps
Please contact Cailyn execdirector@gpmba.ca with any questions you might have about the Rally Cap program.
Vacant - Rally Cap Director