Lil Reds (3-4)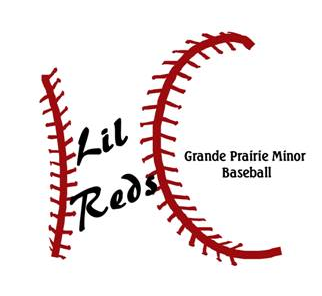 Welcome to Lil Reds, this is a 8 week program offered by Grande Prairie Minor Baseball Association for children aged 3-4 years old.
2022 Season info
The Lil Reds program is offered by GPMBA for children born in 2017, 2018, 2019. The program offers 2 different options:
Option 1: Monday & Wednesday from 1:00pm-2:00pm. Price is $130
Option 2: Saturdays only from 1:00pm-2:00pm. Price is $65
The 2022 season registration will open in January 2022 and will be posted on our website and on our facebook page.
GPMBA reserves the right to ask for proof of age.
What you need

: Your child will need a ball glove, ball helmet and running shoes and water bottle.
Please note:

Parents are required to stay at the field and lend a hand. This is a very young age and it is impossible for 1 person to run a practice without the help of the parents.
The Lil Reds program relies solely on parents to fill all volunteer coaching position (GPMBA does not supply coaching for this program). Parent participation on the field is also required to help ensure that all little ones are learning the basics of baseball.
Skills that will we cover are: Right or Left handed, how to hold a bat, base names and location, hitting off a tee, throwing a ball and overcoming fears that are associated with baseball.
Our number 1 goal is to have fun while building these skills.
Registration Information
PLEASE READ THE FOLLOWING INSTRUCTIONS FOR REGISTERING IN THE LIL REDS PROGRAM USING RAMP.

Go to www.gpmba.ca to register. If first time registering you must create an account.
Select 2022 season-continue
Read all documents and continue
***Under Divisions select Rally Cap
Under Packages select Lil Reds Baseball
In question section select which days of play you would like.
lilreds@gpmba.ca