AA Reds
WELCOME TO REDS AA BASEBALL
2017 Baseball Alberta Handbook (Rules and Regulations)
2017 Baseball Alberta League Calendar
GPMBA AA Reds Sizing Night is this Thursday April 13th at the Evergreen Diamonds Clubhouse.
Mosquito - 5:00 to 5:40
Pee Wee Team # 1- 5:45 to 6:25
Pee Wee Team #2- 6:30 to 7:10
Bantam- 7:15 to 7:55
Midget- 8:00 to 8:40
***All Reds players are required to purchase white ball pants, red socks and a red belt. These can be purchased online at https://gpmbaredsrep.itemorder.com/sale
Please contact repdirector@gpmba.ca for further information.
2017 AA REDS FINAL ROSTERS
Midget AA
Baird, Kris
Bourassa, Rylan
Despot, Keegan
Fast, Morgan
Francis, Dylan
Gades, Parker
Herron, Shawn
Kalashnikoff, Ben
McNab, Kalista
Pittman, Keegan
Santos, Joaquin
Van Buskirk, Emma
Co-coach- Ashley Helmkay
Co-coach- Matt Helmkay
Co-coach- Darren Francis
Co-coach- Jason Van Buskirk
Bantam AA
Bamber, Denon
Chillog, Roan
Dechant, Matthew
Herron, Tyler
Horseman, Kaden
Jonzon, Chase
Kleist, Rylen
Lappenbush, Terris
Quartly, Madison
Richarde, Cale
Thomas, Nolan
Van Buskirk, Ryker
Head Coach- Ashley Helmkay
Assistant Coach- Matt Helmkay
Assistant Coach- Eldon Chillog
Assistant Coach- Jason Van Buskirk
Pee Wee AA #1
Anderson, Isaiah
Bancesco, Kai
Fedorowicz, Keynen
Fenske, Owen
Hamilton, Dylan
Lainchbury, Joshua
London, Austin
Reum, Jayce
Sharp, Kadam
Verhaeghe, Garret
Wabick, Brendan
Whitby, Sean
Head Coach: Darc Reum
Assistant Coach: Chris Hamilton
Assistant Coach: Todd Anderson
Pee Wee AA #2
Barnsdale, Levi
Batt, Logan
Hammel, Kolter
Hollins, Jenna
Lynch, Ashton
Malcolm, Riley
Quartly, Burton
Skiffington, Layne
Tattrie, DJ
Tinworth, Liam
Toews, Keenan
Wold, Max
Co-coach: Jason Wold
Co-coach: Jim Skiffington
Co-coach: Dana Quartly
Co-coach: Doug Tattrie
Mosquito AA
Hildebrand- Hobb, Jake
Hurst-Olson, Jordan
Keddie, Rolen
Kramer, Seth
Lee, Gabriel
Martin, Jack
Martin, William
Matier, Matthew
Russell, Keane
Sinclair, Aiden
Taylor-Gagne, Kallan
Viske, Jaxon
Willet, Hayden
Head Coach: Tyler Matier
Assist. Coach: Calvin Willet
Please contact repdirector@gpmba.ca for any questions or concerns.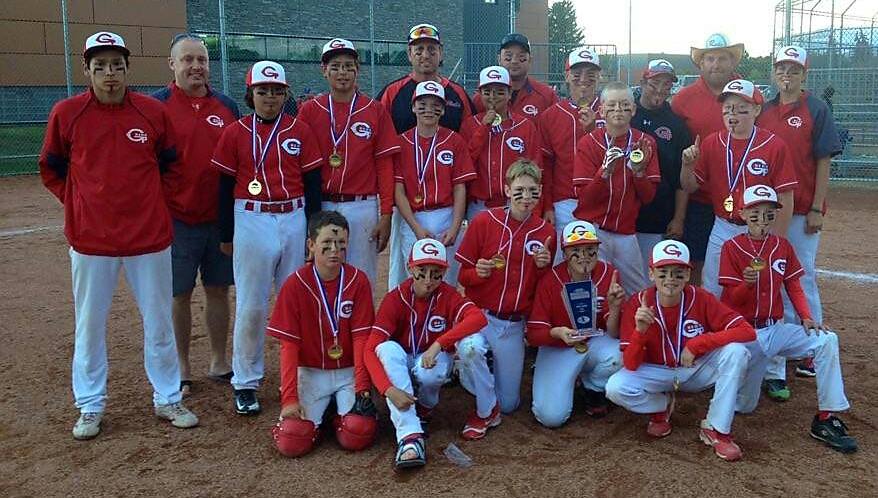 Congratulations to the 2016 Peewee AA #2 Team who captured Gold at the Tier V Peewee AA Provincials!
The Reds Baseball Division is a competitive based program for youth ages 11 to 18
Mosquito 2006 - 2007
Peewee 2004 - 2005
Bantam 2002 - 2003
Midget 1999 - 2001
Registration Costs are:
Mosquito - $235.00 + $50.00 refundable volunteer bond + non refundable $50.00 Tryout fee
Peewee - $245.00 + $50.00 refundable volunteer bond + non refundable $50.00 Tryout fee
Bantam - $260.00 + $50.00 refundable volunteer bond + non refundable $50.00 Tryout fee
Midget - $270.00 + $50.00 refundable volunteer bond + non refundable $50.00 Tryout fee
Team placement is determined by tryouts typically held towards the end of March. Tryouts run over a three day period and are held at the Crosslink County Sportsplex in Clairmont. Schedule information can be found under the registration tab on the main page of our website www.gpmba.ca.
Registrants will be evaluated on skill level, sportsmanship and coachability.
GPMBA selects evaluators based on their ability to be impartial, evaluators will be the same individuals for the entire tryout process. The evaluation process also included the current coach of each team.
If there are concerns regarding an evaluation, the evaluation sheet may be requested to be viewed. Evaluations can only be discussed with the youth's parent or current legal guardian.
Once the evaluation process is over team rosters will be placed on GPMBA's website www.gpmba.ca
The AA season runs from Mid April to July or August depending on a teams placement. As the AA program is competitive in nature and team numbers are limited, full commitment by each player is necessary. Please feel free to approach a coach or evaluator during tryouts to discuss anything that may impact your level of commitment during the season.
If a player is not chosen for placement on a AA team after completing evaluations, those players will be assigned to a House League team. If there is enough interest there is the potential for a 'A' Provincial team later on in the season. 'A' Provincial teams travel and compete for typically three weekends in July.
Team fees associated with the AA Rep program (for players who are selected for a team):
On average a $250.00 team fee is required (this is on top of registration fees), this is to cover various team expenses such as Umpire fees, team equipment, extra diamond maintenance, etc.
Mandatory Rep Uniforms are required. GPMBA supplies each player with 1 Jersey ($50.00 refundable deposit required), players must purchase mandatory white baseball pants, red belt. Approximate cost between $75.00 - $100.00
Practices and Travel Info
Teams practice Tuesday - Thursday 6:00 to 8:30. Possibly Monday - Wednesday depending on team numbers and diamond availability. Coaches may also schedule additional practice times.
Teams can expect to travel 8 to 9 weekends during the season. Travel will be to various places in Alberta. Teams will generally host one weekend at home. Baseball Alberta generally releases the dates for weekends of play for each level in January. We will provide a link on our website as soon as it's available.
For any registration related inquires please email registrar@gpmba.ca
For any programing related inquires pleas email technicaldirector@gpmba.ca