Coach's Corner
---
2019 Coaching Requirements:
All coaches MUST be registered in the NCCP system. Simply go to http://nccp.baseball.ca/register.php and register. New coaches will be required to pay $37.45 to enter the system and receive access to the Coach Initiation in Sport Module.
All House League (A) Coaching for Lil Reds to Midget must have the following completed by April 1, 2019.
For all Competitive Coaches (AA or AAA), you must have the following completed by March 1, 2019 (you will also be required to complete in class NCCP coaching clinics)
All courses will be refunded if you coach for the entire 2019 season. Receipt must be provided.

Click Here to print the GPMBA application: 2019 Coach Application
Click here to access the NCCP Registration/Initiation Online module: NCCP Registration
Click here to print the GPMBA Criminal Record check form: Criminal Record Check Forms
Click here to complete Respect in Sports Online Course: Respect in Sport
***Prior to the season starting, we will hold a mandatory coach meeting where you will meet the director and go over the plan for the 2019 season. This date will be decided once teams are made.
NCCP Coach requirements chart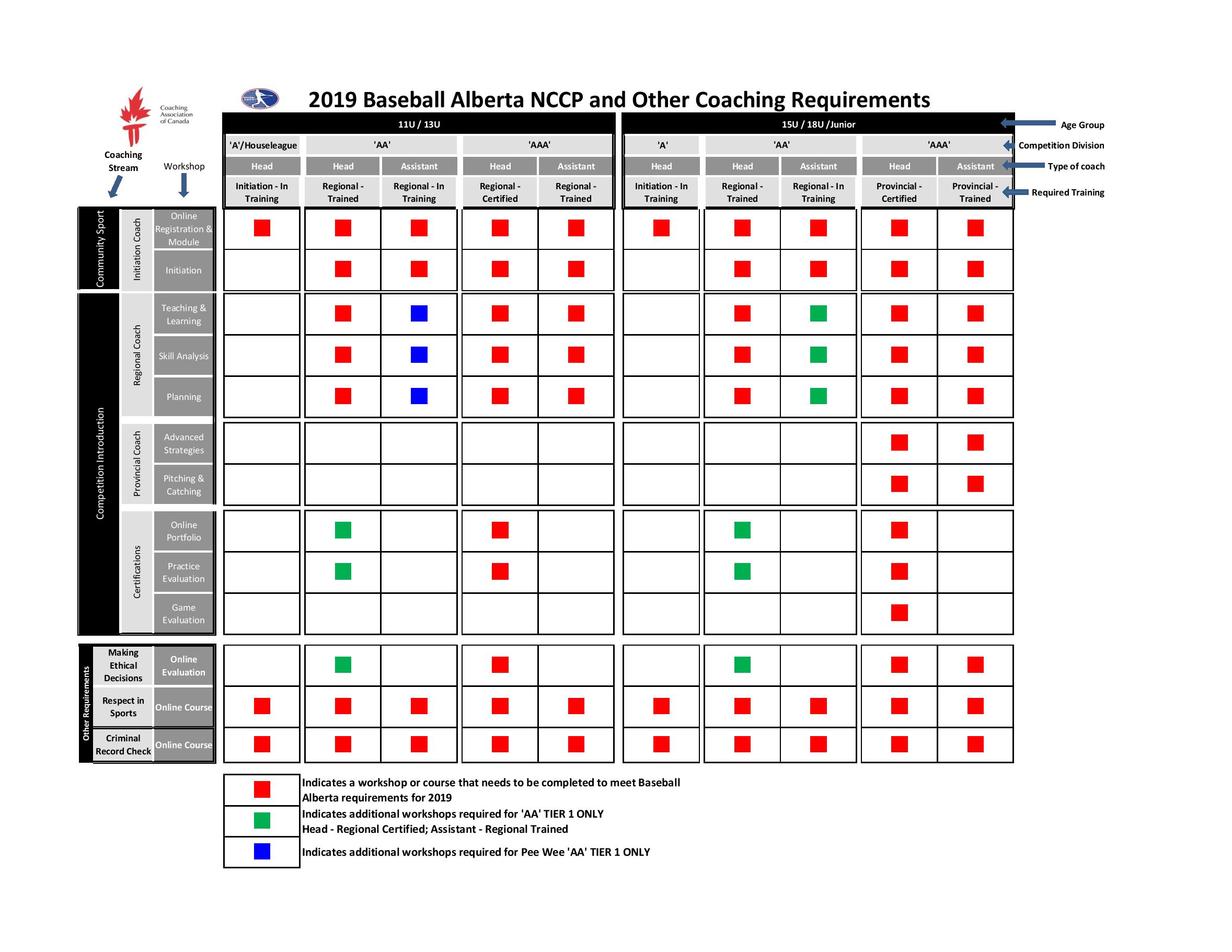 2019 Grande Prairie Coaching Clinics
Dates have not been confirmed for Grande Prairie
To Register for the NCCP Coaches Clinics Click the following link.
https://nccp.baseball.ca/register.php
Instructions
If you do not already have an NCCP account, you must create an account.
On the main page fill out the coaching goals ( Four Questions)
Once questions are answered scroll down to notes and click on Register for Online Initiation module ( Has to be completed before you will be able to enroll in any clinics)
Cost of the online course is $37.45 which will be refunded if full 2019 season is coached. Refunds will be issued in after the season is completed. Please email receipts to execdirector@gpmba.ca
Individual cost of each classroom course is $50.00 which will also be refunded in after the season has been completed. Please email receipts to execdirector@gpmba.ca

2019 Coaching Links and Resources
-Pro Baseball Insider - Free Baseball Instruction exclusively from the PROs!
-Jaegar Sports - J-Bands and Long Toss